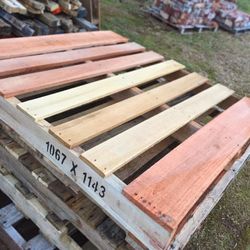 Here at Apple Valley Farm, we use a LOT of pallets! So part of our business involves removing and repurposing old pallets from businesses and work sites all over North GA.
If you have pallets (or crates, wire spools, wooden boxes, etc) that you would like removed, please click here to CONTACT US. Even if you already have someone removing your excess pallets, you may want to see if there's room for improvement. And if so, we'd love to see if we can help you.
We are dependable, trusted and we always, always leave your pallet area neat and tidy when we go. We don't cherry pick then leave you with a mess of scrap wood. And we always show up when we say we will. Our references are available upon request, if you need them.
Thanks for trusting Apple Valley Farm to help you with all your pallet removal needs!