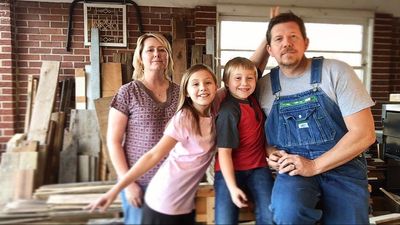 With one foot in the sawdust and one foot in the dirt, Apple Valley Farm is becoming synonymous with hand-painted signs, premium reclaimed wood furniture, and handmade crafts and decor. AVF is growing every day, realizing dreams and fulfilling a Godly purpose.
Currently, AVF is a sprawling-acre mini-farm where The Fitzpatrick family makes handmade wooden crafts, signs and furniture, many times from historic and reclaimed materials. 
After an unexpected heart attack at only 46, Ricky Fitzpatrick who was unable to return to work, started creating hand-painted signs, made from reclaimed pallet wood. "It was a way for me to keep my hands busy...plus it seemed like a way to help fund Santa", he jokes.
The result was an outpouring of support and patronage, locally and via web business. That led to the harvesting of old building materials and the family's deconstruction obsession. And not long thereafter, Apple Valley Farm came to be and no one has been able to catch their breath since.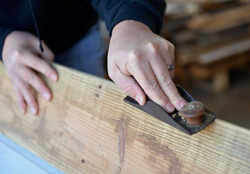 Today, they specialize in carefully crafted pieces for homes and businesses...and of course, in hand-painted signs. And the entire family (Ricky, Cretia, Emma and Jude, and older sons Cameron and Caleb) is involved, from bookkeeping, social media, and scheduling, to diving into dilapidated old barns and pulling stubborn, rusty nails. It's all hands on deck.
Steeped in a lifetime of crafting, woodworking and local history, the Fitzpatrick family operates Apple Valley Farm from their home, right in the tiny, rural community of Apple Valley, just outside of Jefferson, GA.
Being a family of Faith, the Fitzpatricks believe in giving their very best and offering unsurpassed quality and service in all they do. Prices are fair, workmanship is stellar, and service is professional and friendly.
Previously well-known for his award-winning, locally-themed songwriting, Ricky's love of creativity and local history has carried over into today. That passion is now manifest through AVF's careful work with wood and reclaimed materials to create unique crafts and works of art.
OUR MISSION
Through our repurposing and woodworking efforts, Apple Valley Farm strives to create quality, beautiful and affordable handmade items, rustic furniture, and reclaimed wood décor pieces. We share our love of sustainability and creativity with our clients and customers, creating a business that is fiscally, environmentally and ethically responsible, as well as one that allows us to offer instruction for those who wish to learn more. We purpose to treat those around us with respect and honesty, displaying the mind of Christ and the work ethic of the generations before us.