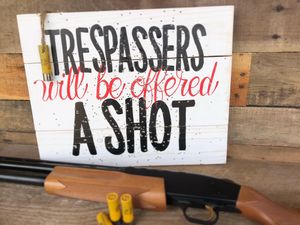 When we first started making hand-painted signs, back in 2015, we really didn't have a clue. I mean really. We had no idea what we were doing, and we certainly had no idea about what people actually wanted. 
So part of our process was, and still is, to just make what we like! And what do you know? Folks seemed to like that. And for some reason, they still do. I don't know if it's because we have such great taste, or if it's more that folks like that we like what we like. ;)
One of our favorite signs is a No Trespassing sign that I got asked to make. We did it fairly standardly. Nothing fancy. But when we finished it, I decided to pepper it with a little buckshot, just to add some character. 
And as it turns out, shooting that sign has been one of the best things we ever did! 
A few people said we were being overly aggressive. Some said we were wasteful. Or irresponsible. But overwhelmingly, people loved it. And to this day, Apple Valley Farm is the only company on the planet that offers a "buckshot distressed" hand-painted sign. 
If you love the idea, (or if you just want to watch us shoot something), we've got several videos over on our YouTube channel. Check them out, and of course like, comment and subscribe while you're there. – https://youtu.be/p_TOGr4fGz4  
If you'd like us to make you one, you can give us a shout at info@applevalleyfarmga.com 
And if you're like us and happen to be a hunter or gun owner and would like to look into setting yourself up to safely and securely store your weapons, take a look at SecureIt Defense Ultralight Gun Safe. Possibly THE best gun storage system you can buy. Click the link below and you'll save $200 (thru 10-31-20), plus your purchase will help support what we do here on the AVF. 
Save up to $200 on Ultralight Gun Safes Shop Now