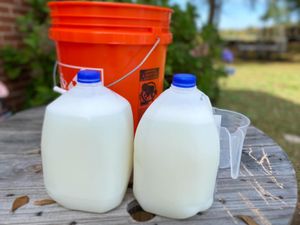 AVF Homemade Laundry Detergent Recipe
1 Fels Naptha Laundry Soap Bar 

1 Cup (roughly) Powered Borax 

5 Gallons Hot Tap Water 

Essential Oils (optional) 

 

1 Clean 5 Gal Bucket with Lid 

1 Cheese Grater (any style) 

1 Transmission Fluid Style (unused) Funnel 

1 Measuring Cup (2 cup size is great) 

1 Long Stirring Stick 

10 Gallon Jugs 
Using the cheese grater, grate the entire bar of Fels Naptha into your bucket. Watch your fingers! 
Pour 2 Gallons of Hot Tap Water in the bucket. Stir gently but well until all is dissolved. This may take several minutes. 
Add the Borax.
NOTE: Borax will make your detergent strong and if you use a lot, if will fade colors. So if you are sensitive or have delicate clothing, you may want to omit the borax. 
After adding the Borax, stir well. Again, this may take a while. Str until the "grit" feel is all gone. 
If you want to add your favorite essential oils for fragrance, now is the time to do that. See your essential oils provider for suggestions on how much to use. After adding, again, stir well. 
Add the remaining 3 Gallons of hot water. Stir well. Cover with the lid and let sit overnight. 
NOTE: At this point, your detergent will seem thin. But after sitting overnight, it will thicken to a gel-like consistency. 
At this point, you're ready to pour your detergent into gallon jugs. Fill each jug aprox half full with warm tap water. 
Using the funnel and measuring cup, start transferring the detergent to the jugs with the water. 
When you're finished, you should have10 gallons of amazing, inexpensive homemade laundry detergent. 
We use aprox 1 cup of detergent per large load of laundry. 
NOTE: Just in case you're wondering, we would not suggest using the detergent "full strength". That is, without adding the additional water in the jugs and making only 5 gallons. The resulting mixture isn't dangerous, but could be very harsh on your clothing.
And for more info on how we make our Homemade Laundry Detergent checkout our blogpost at https://applevalleyfarmga.com/avf-blog/blog/laundry-detergent-for-2-per-year