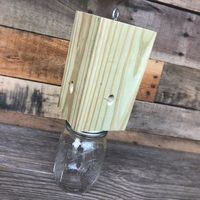 One of my favorite things is when friends and customers send us suggestions for things to make. I don't always trust myself when brainstorming project ideas, so getting it straight from the horse's mouth is always best! 
With Spring in full swing and the carpenter bees out in full force, Carpenter Bee Traps are on our minds. I know they can wreak havoc on our house and shed! So anything we can do to knock their numbers down is a plus for me. 
Our plan for this was to use materials and tools that we already had around the house. Right now, we're under self-quarantine, so anything we can do to reduce our going, is good. 
This is a super easy build, so let's get started! :)
Our materials included: 
A scrap 4X4 (any) 
A Pint Mason Jar, Lid and Band 
2 Deck Screws 
1 small Eye Hook 
About 18 inches of Picture Hanging Wire 
Our tools: 
Chop Saw 
Cordless Drill 
Cordless Impact Driver 
Clamp 
Combination Square 
Sharpie 
Drill Bits (1/2" and ¾" paddle, and ¼" and ¾" wood/metal) 
Cut the 4X4 to 5" long. Then find the center of each end by marking intersecting lines from corner to corner. Then measure up 1" from one end on all sides, and find the center of each side (about 1 ¾") 
Using the ¾" paddle bit, drill a hole in one end, 4" deep. 
Then using the ½" paddle bit, drilling away from the 3/4" hole end, drill at a 45 degree angle until you feel the bit break through and intersect with the center hole. 
Be sure all drilled holes are clean and as free as possible of splinters and tear out. This ensures the bees have a clear, easy path through the holes. 
Using the ¼" bit, drill a pilot hole on the opposite end of the 4X4, in the center. This is for the eye hook, but don't screw it in yet.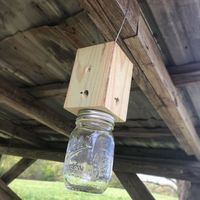 Take the jar lid, turning it inside-up, mark a dot, roughly in the center of it. Clamp it to your work table, then drill a pilot hole with the ¼" bit. Then come back and drill the hole out further, using the ¾" wood/metal bit. 
On the end of the 4X4 with the ¾" hole, take the lid and band and roughly center them over the existing hole, then using the deck screws, secure it to the 4X4, keeping in mind to place them at the corners of the 4X4, and not the faces. 
Turn over and screw in the eye hook. Screw on the jar. 
Now you can either hang your complete Carpenter Bee Trap on a nail with the eye hook, or using the picture wire. 
--- 
Thank you so much for joining us. We hope this was helpful and informative. Please share it with your circle of friends. Pin us. Post about us. Share a link. And be sure to follow us on all your favorite social media platforms. 
And please watch the companion video over on our YouTube channel, where you can watch all sorts of similar woodworking and crafting videos. And don't forget to like, comment and subscribe to us while you're there. 
Finally, we'd love it if you JOIN US as an AVF Friend. Get updates on new blog posts, new products and special discounts, only available to our Friends. 
THANK YOU and have a blessed day!