A sander is an indispensable part of our tool lineup here at Apple Valley Farm, and in virtually any woodworking shop. So when our old Ryobi Random Orbit Sander finally died, we had to grab a quick replacement. 
We decided to try out the inexpensive Hyper Tough 2.5 AMP 5 Inch Orbital Sander from Walmart. And wow, what a surprise! 
THE DETAILS 
The Hyper Tough 2.5 AMP 5 Inch Orbital Sander spins at 13,000 OBM unloaded, has a dust-protected On/Off switch, and accepts any 5 inch hook and loop style, circular sanding pad. 
It also comes with a dust collection bag, external dust collection adapter and a 2-year limited warranty. It weighs in at a light, 3.9 pounds and has dimensions of 5.25L x 7.50W x 6.56H inches. This is a corded model, with a 6-foot power cord. 
While the Hyper Tough is known for its availability in Walmart stores, it is also available in a number of online retail destinations. It typically retails for aprox $19.88 in Walmart, but may vary slightly at other retailers. 
It appears to have previously come in a Red housing, but ours was Black. Many online mentions of the Hyper Tough seem to show the Red version, for some reason.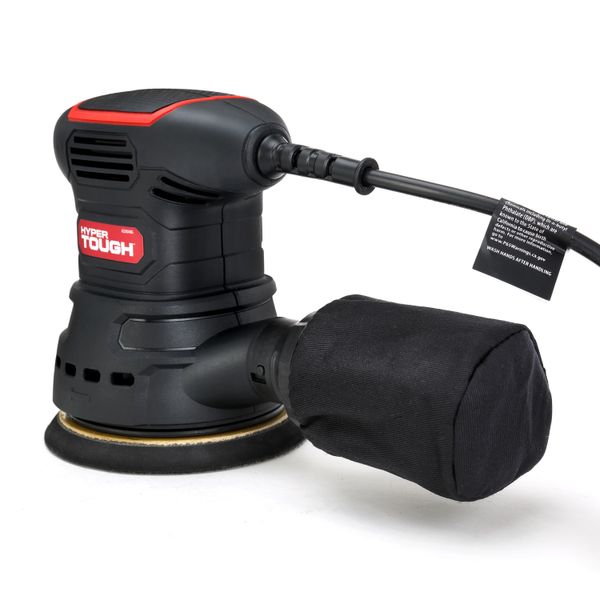 UNBOXING 
When we unboxed the Hyper Tough, we expected a simple, straight-forward tool. And it was. No frills, but no surprises. Everything was neatly packaged and undamaged. 
Without looking at the included owners manual, we easily unboxed, attached the dust collection bag and attached one of the sanding pads. 
The Hyper Tough felt comfortable in the hand. Not too heavy. Not too light…which we were concerned about. But it felt solid. 
I did notice however, that the exhaust vents were inconveniently placed right where my thumb and fingers would be when sanding. Not a safety concerns, but a misstep in design, IMO. 
I also noticed that when hooking up the dust collection adapter and inserting my shop vac hose, the connection was very "untight". Not loose, but just not tight enough to make me feel like it would stay in place once we started working. 
SANDING 
Once everything was hooked up, connected and plugged in, we hit the power switch, which operated smoothly. 
We expected a loud tool. But the Hyper Tough was not abnormally loud. 
We also expected a lot of vibration. Again, not at all. 
We wondered if power might be a problem. But working our way through pre-surfaced pine, a rough, oak pallet board, and a 100 year-old poplar barnboard with 150 grit, those fears were definitively laid to rest. No hesitation on any of our test materials. 
Smooth, adequate and relatively quiet, the Hyper Tough seemed to work as well as any higher-priced sander we've used in the past. 
THE NEGATIVES 
As mentioned, the dust collection adapter did not provide a very snug fit for our standard shop vac hose end. And as expected, after about 10 seconds of use, it slipped out. We eventually just gave up and went with the dust collection bag. But that was disappointing. 
I mentioned the exhaust vent placement. A minor faux pas, but a ding, nonetheless. 
Also, a difference in speed from my old Ryobi, seemed to be very noticeable to me. There is a marked difference, but not what I thought. The Hyper Tough seemed to spin quite slowly, but when checking the specs, it spins nearly 3,000 OPMs faster (13,000) than the Ryobi (10,200). I'll have to dig into this more and see what the pros and cons could be for this.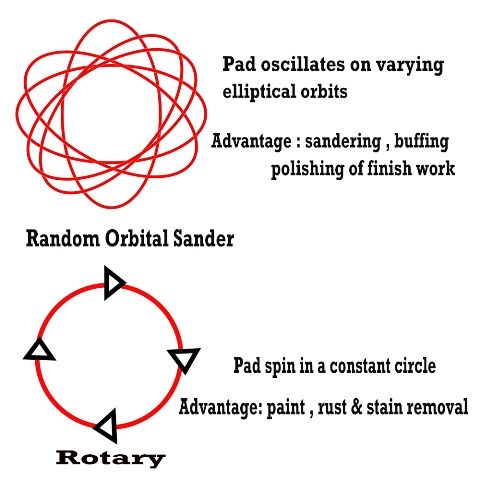 Finally, you may have noticed that the Hyper Tough is an ORBITAL sander. Not a RANDOM ORBIT sander. That means the spinning motion of the Hyper Tough is not complimented by a back-and-forth motion that helps to reduce swirl marks. 
For me, I rarely do fine finish work. We do mostly rustic projects, so it isn't a big deal. But just be forewarned, if you're going to be picky about your final appearance. 
Overall, not many negatives to be mentioned here. And what a pleasant surprise. 
IN THE END 
In the end, we actually liked the Hyper Tough quite a lot. And frankly, we didn't expect to. 
I do want to revisit this tool in 3-6 months and see how it's holding up. If it does well in the log term, then we may just have stumbled on a new best friend. 
And for more on this tool review, be sure to check out our video review on our Apple Valley Farm YouTube Channel. - https://youtu.be/7a0C47uJ2IM 
But overall, a big thumbs up to Walmart and Hyper Tough for knocking our socks off with a very affordable, very impressive little sander. We'd buy it again! 
*FYI, Apple Valley Farm is not sponsored by or partners with Walmart or Hyper Tough. This is an independent tool review. 
Hyper Tough 2.5 AMP 5 Inch Orbital Sander on Walmart.com - https://www.walmart.com/ip/HyperTough-2-5-Amp-Orbital-Sander-5-Inch-Corded-AQ20036G/787255254
Sanding Patterns image, copied from Air & Pneumatic Tools - https://airtoolsite.wordpress.com/2016/10/28/the-difference-between-random-orbital-sander-v-s-non-orbital-rotary-sander/