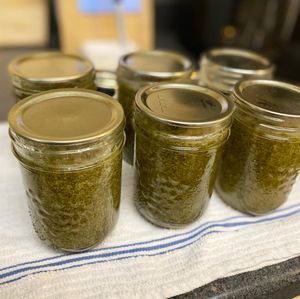 Easy Jalapeno Pepper Jelly 
Prep: 30 mins 
Cook: 5 minutes 
Serves: 5-6 Half Pints 
Ingredients: 
3 Cups Jalapeno Peppers, Halved and Deveined (aprox 15-20 peppers)) 
1-2 Cups Green Bell Peppers, Cleaned Out and Sliced (aprox 3-4 peppers) 
1 Cup Apple Cider Vinegar 
5 Cups White Sugar 
1 Box Original Sure-Jell Powdered Pectin 
Equipment: 
Food Processor or Blender 
Large Stainless Steel pot 
Large Stainless or Rubber Spoon or Baking Spatula 
5-6 Half Pint Ball Mason Canning Jars, Caps and Bands 
Puree Jalapenos and Bell Peppers (together if possible) very well in a blender or food processor. 
Combine pureed peppers, Apple Cider Vinegar and Sure-Jell in Stainless Steel Pot and bring to a boil that you can't beat down with a spoon. Boil for 1 minute. 
Add Sugar and return to boil. Boil hard for 2 more minutes. Then remove from heat. 
Skim off foam. (You may also do this throughout the cooking process.) 
Pour into prepared jars with caps and loosely applied bands, for canning. (If not canning, plan to use within 30 days.) 
Allow to sit on counter overnight to cool and set. 
Tighten bands, clean jars (they will be sticky) and store. 
Canned jars will keep for 1 year. Unprocessed jars will keep refrigerated for up to 3 months, or unrefrigerated for 30 days. 
NOTE: Wearing rubber gloves when preparing the peppers will keep the capsaicin from burning your fingers, and consequently, anything else you touch. 
NOTE: The exact ratio of Jalapeno to Bell Peppers is approximate. As long as you have 4-5 Cups, total. 
NOTE: The measurement of peppers is AFTER deveining and slicing. 
NOTE: You don't have to devein or deseed the Jalapenos, but the less you clean them, the hotter your jelly will be.