Homemade Buttermilk Peach Ice Cream 
Pre Time: 15 minutes 
Freeze Time: Aprox 30 minutes 
Makes about 2 quarts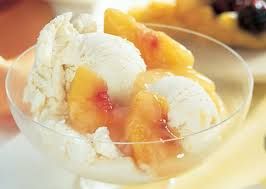 Our family loves homemade ice cream. But even diehard fans like us can get a little burned out on vanilla, every time. So this Summer, we set out to find something really different. 
Our search landed us on the Taste Of Home page and a recipe for Buttermilk Peach Ice Cream. Yes...buttermilk! In ice cream! 
It sounded just odd enough to give it a try. And man are we glad we did. 
The base is extra creamy and the peach taste is not overpowering like I worried it might be. The buttermilk gives just the right amount of "tang" to each bite and the brown sugar mellows the sweetness perfectly. Then the heavy cream and vanilla and of course, fresh GA peaches…and we had a bonafide winner! 
We did modify the TOH mixture to get it exactly the way we wanted it, and I hope this can be something your family will enjoy as much as we have. 
Give it a try and let us know how your family liked it! 
INGREDIENTS 
2 lbs well-ripened Fresh Peaches (about 6-7), peeled and chopped 
½ cup Sugar 
½ cup Packed Light Brown Sugar 
1 tbsp Lemon Juice 
2 tsp Vanilla Extract 
Pinch Salt 
2 cups Buttermilk 
1 cup Heavy Whipping Cream 
DIRECTIONS 
After peeling, chop peaches in roughly ½ cubes. Add sugars, lemon juice, vanilla and salt and mix well but gently with a large spoon or rubber spatula. 
In a large bowl, mix buttermilk and cream. Stir in peach mixture. 
Fill cylinder of ice cream maker no more than two-thirds full. Freeze according to manufacturer's directions, refrigerating any remaining mixture to process later. 
Serve immediately after freezing. Serves 6-8 people, depending on how much you like it. 
If any is left, transfer ice cream to freezer containers, allowing headspace for expansion. Freeze 2-4 hours or until firm. Let ice cream stand at room temperature 10 minutes before serving.