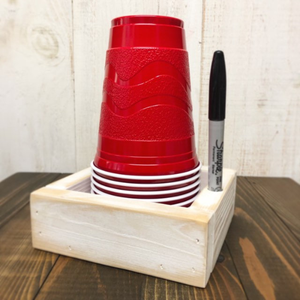 How many times have you gotten together with friends or family, and struggled to keep everyone's plastic drink cups in order? Or worse yet, tried to keep up with a Sharpie so everyone can write their name on their cup? It's impossible! 
Or at least, it USED TO BE. :) 
Check out our simple Wooden Solo Cup Holder. Perfectly sized to fit a standard sized Solo-style drink cup, and a hole for your Sharpie-style marker, so it always stays with the cups. Perfect for cookouts, dinners, parties, tailgates, family gatherings or anywhere people get together. 
We love to make these, but we wanted to show you how to do it yourself, if you have the urge. 
Our materials and tools include: 
2, 1X4 4 inches long sides 
2, 1X4 5 ½ inches long sides 
1, ¾" plywood 4X4" bottom 
1" brads 
Wood Glue 
Paint (your color choice) 
Brush 
3/8" Drill 
½" Drill Bit 
Chop Saw 
Sander 
Sandpaper (150 grit) 
Start by cutting the sides and bottom. Sand well.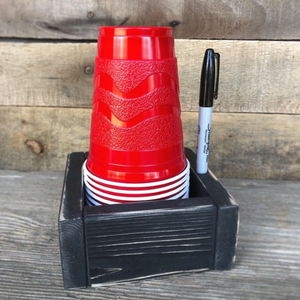 Now put it all together. The longer (5 ½") sides overlap the ends of the shorter (4") sides. Use a bead of wood glue on the ends, then secure it with a couple of brads where they all meet. 
Now set the bottom into place and secure it with brads. Two on two opposing sides is plenty. 
That completes the box! 
Take your ½" bit (I prefer a paddle bit) and drill a hole aprox 2" deep, halfway across the top of one of the long sides. Be very careful to center the bit on the board. With your bit being ½" and the side being just ¾", that doesn't leave a lot of room for error. 
HINT: Using a drill press for this step (above) will help ensure an accurate and straight bore. But you can easily eyeball it with a handheld drill. 
After that, make sure everything is sanded well, wipe the dust off, then apply your paint. Don't worry about the bottom, since it will never be seen.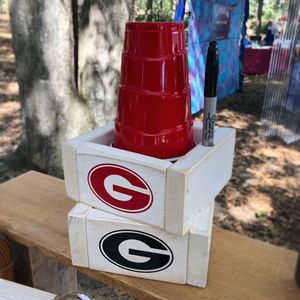 Let it dry for a few hours. Then when everything is dry, we like to give ours a light sanding, concentrating on the corners and edges. This gives a nice worn look to things. 
You can spray a coat of matte or gloss clear over everything, but you don't have to. We don't. 
And that's it! Put your cups in and stick the Sharpie in the hole and you're ready for business. 
If you want, you can apply decals. Or use stencils (or freehand) to add lettering or images to yours. Maybe your favorite team logo. Maybe a name or short quote. The rules are yours to make up! 
And…if you'd like to buy any finished Cup Holders from us, please check them out in our online store at https://applevalleyfarmga.com/product/549272 
And for even more info on how to build, check out our YouTube video at https://youtu.be/Ejz84Vi-6A8 
Thanks! 
--- 
Hey, thanks for joining us. We hope this was helpful and informative. Please share it with your circle of friends. Pin us. Post about us. Share a link. And be sure to follow us on all your favorite social media platforms. 
Finally, we'd love it if you JOIN US as an AVF Friend. Get updates on new blog posts, new products and special discounts, only available to our Friends. 
THANK YOU and have a blessed day!