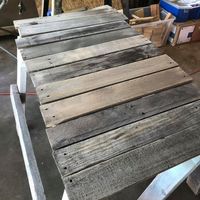 Here at Apple Valley Farm, we use a LOT of reclaimed wood. And in case you don't know, that means we rarely have a lot of control over how it's going to look before we paint on it!
But one saving grace has been our Weathered Wood Accelerator. When we need to impart some extra weathering to a piece of reclaimed wood, it's the perfect tool.
Join us here as we take a quick look at how we use the WWA to add a few years to our boards, when the need arises. And head over to our YouTube channel to watch the companion video at https://youtu.be/HX9Xq37-thA
The great thing about Varathane's Weathered Wood Accelerator is that it's water-based. Super easy to apply and super easy to clean up. We start by giving it a shake, then using a basic multi-use brush to liberally apply it to our wood. Don't be afraid to really slather it on. You want it to soak in.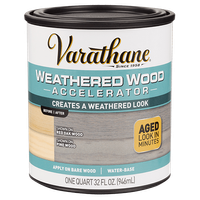 FYI, the WWA works best on reclaimed wood. Something with a little character. The smooth, planed finish of a new board just causes the WWA to bead up and roll off. It needs some "texture" to grab on to.
Once you apply it, give it plenty of time to soak in. We like to leave ours overnight, but a couple of hours will probably do. Putting your board(s) in front of a fan of some sort will definitely speed up the process.
After everything is dry, then you're ready to proceed with your project. Whatever that may be!
-----
Hey, thanks for joining us. We hope this was helpful and informative. Please share it with your circle of friends. Pin us. Post about us. Share a link. And be sure to follow us on all your favorite social media platforms.
And please watch the companion video over on our YouTube channel, where you can watch all sorts of similar woodworking and crafting videos. And don't forget to like, comment and subscribe to us while you're there.
Finally, we'd love it if you JOIN US as an AVF Friend. Get updates on new blog posts, new products and special discounts, only available to our Friends.
THANK YOU and have a blessed day!